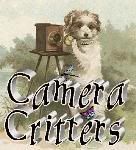 Max: Mum, can you take a picture of my profile?
Me: Sure, Maxie.
Max: Errrm, mum....
Me: Yes, Maxie. Don't you like it?
Max: I want a close up, mum, for the Pet Pride and Camera Critters meme.
Me: Oh dear me! Yes, of course, sweetie...
Me: How's that, Maxie?
Max: Uhmm, that's more like it, mum. But didn't you just crop it?
Me: Errrmmmm....