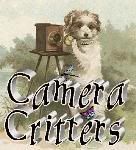 Max came to me one day and complained why Joe is hogging the blogspot these days. Max, I explained to her, it is because you turn away when I take your photo. Joe is not camera-shy, you know. He loves the camera so I love taking his photos. And you... you walk away... that's why.
Okay, mum, Max told me. I'll sit here and pose for you. Make sure you get my best profile.
Sure, dear. Here you go...
And that explains why Max has her portrait here today.