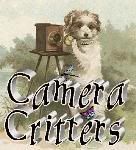 Welcome to this week's edition of Pet Pride and Camera Critters.
Today we are going to share with you one of Joe's secrets in increasing his flexibilty by doing
Joe-ga stretch
... it is simply Joe's version of a yoga stretch.
Okay, furry friends, roll out your mats out or what-have-yous and let's do the Joe-ga....
Lie down on one side ... put your hands in front of you, and, with your flexed toes .....
.... s - t - r - e - e - e - e - e - e - e - e - e - e - e - e - e - t -c -h!